Due to its inherent ductility and flexibility, steel is the material of choice for design. Rather than crushing and crumbling under extreme loads, it flexes. Building construction continues to use structural steel because of its strength, durability, design flexibility, adaptability, and recyclability. In construction management services, fast construction reduces overhead costs. Steel is extensively used in industrial buildings with long spans and cranes (medium and heavy buildings) where concrete construction is not feasible.
WHAT ARE PRE-ENGINEERED BUILDINGS
Pre-engineered buildings (PEBs) are designed by a manufacturer to be fabricated using predetermined raw materials and manufacturing methods so that they can meet a wide range of structural and aesthetic requirements. Using unique mastic beads, filler strips, and trims, pre-engineered steel buildings can be equipped with a variety of structural accessories, such as mezzanine floors, canopies, fascias, interior partitions, etc.
Building components are transported to the site in the knock-down condition in pre-engineered buildings. Up to 30% of the weight of a conventional steel building can be saved by designing a pre-engineered building efficiently. A lighter structure means less steel and savings in structural framework costs.
A hangar is a closed structure for storing aircraft or spacecraft in aviation. On airfields, aircraft, and ships, hangars protect aircraft from the weather, direct sunlight, maintenance, repair, manufacture, assembly, and storage. Building hangars requires special structures. The doors are too wide and span from 30 meters to 120 meters, enabling the aircraft to enter. As the size of the aircraft increases, a more complex structure is required. Thus, pre-engineered buildings are specially designed and engineered to meet the unique requirements of specific end-users.
In India, pre-engineered buildings (PEBs) are the latest trend. A PEB is a metal building with light gauge metal standing seam roof panels on steel purlins spanning between rigid frames and light gauge metal wall cladding. Construction time is drastically reduced. In addition, maintenance is extremely low. PEBs maximize resource utilization and technology utilization. In the past, Pre-engineering buildings are known for their durability, water resistance, and earthquake resistance. In addition to being highly versatile, PEBs are easy to set up, expand, modify, and transport. In addition to being environmentally friendly, they can also be aesthetically designed with unique features. As compared to conventional buildings, you can save 20-30%.
Compared to conventional steel structures, PEBs can be delivered to a site within 5 to 8 weeks. PEBs are up to 30% lighter than regular steel products due to the unique fabrication techniques used during fabrication. The construction site does not require welding or fabrication, which speeds up the process.
BUILDING CLASSIFICATION
Over the past decade, there has been a steady increase in demand for construction works in the residential, commercial, institutional, industrial, and infrastructure sectors. Modern structures are much more complex and sophisticated compared to earlier periods. We are all noticing that the present structures are taller and thinner. Nowadays, structures need to be lighter without compromising functionality. Steel, concrete, and other construction materials have faced continuous economic competition in civil engineering construction.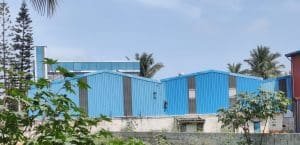 Reinforced Cement Concrete Buildings
Reinforced concrete incorporates reinforcing bars to improve one or more properties of the concrete. In one form or another, it has been used as an economical construction material for many years. Construction of a structure using local materials and labor is a large part of its appeal worldwide. The basic constituent materials of cement, sand, aggregate, water, and reinforcing bars are widely available.
Today's structural steel framing brings grace, art, and function together in almost limitless ways, providing new solutions and opportunities to create challenging structures, which were previously impossible and Unthinkable. Structures made of steel have reserve strength. Construction can proceed quickly from the start of erection due to the simple stick design in the steel framing.
Conventional Steel Buildings
The conventional steel building is conservative and consultant-driven. In conventional buildings, structural members are hot rolled. Materials are produced or manufactured in the plant and transported to the site. On-site, raw materials are processed and erected into the desired form. Modifications can be made during erection by cutting and welding. Conventional systems use truss systems.
It is the plant itself that manufactures or produces pre-engineered steel buildings. Structural members are manufactured based on customer specifications. Each structural member is designed for its particular location and is numbered, which cannot be changed since each member is manufactured according to its design features. Components are made modularly or knocked down for transportation. Materials are transported to the customer's site and erected. A welding and cutting process is not performed at the customer's site. A manufacturing process does not take place at the customer's location.
Buildings with a ground floor, two intermediate floors, and a roof are the most common and economical types of low-rise buildings. Low-rise buildings may have flat or sloped roofs. A mezzanine system is used to construct the intermediate floors of low-rise buildings. It is easy to construct single-story houses for living in any geographical location, whether in a cold hilly location, a high rainfall prone area, a plain land area, or a hot climate zone.
ADVANTAGES OF PEBs
Buildings are typically delivered within a few weeks after drawings are approved. Anchor bolts and foundation bolts are cast parallel to the finished surface, ready for site bolting. In India, pre-engineered buildings will reduce construction time by at least 50%. As a result, occupancy rates are higher and revenue is realized earlier.

The systems approach reduces design, manufacturing, and on-site erection costs. Secondary members and cladding nest together, reducing transportation costs.

Buildings can be easily expanded by adding additional bays. It is also possible to expand in width and height by pre-designing for future expansions.

A building can be supplied with a clear span of up to 80 meters.

As all buildings are manufactured in a factory under controlled conditions, quality is ensured.

High-quality paint systems are used for cladding and steel to match the ambient conditions at the site, resulting in long durability and low maintenance costs.

Buildings can be insulated with polyurethane insulated panels or fiberglass blankets to achieve the required U-value.

Versatility: Buildings can be supplied with different types of fascias, canopies, and curved eaves, as well as precast concrete panels, curtain walls, block walls, and other wall systems.

As the entire building package is supplied by a single vendor, all the building components and accessories are compatible. Pre-engineered building systems offer this benefit among many others.
APPLICATION OF PEB
Industrial, institutional, and commercial buildings are the most common uses of PEB.
India primarily uses pre-engineered building systems for warehouses, sheds, and industrial buildings. As a result, the focus has shifted to include rural and urban, individual and mass housing projects, farmhouses, slum re-organization, rehabilitation projects, health centers, kiosks, primary schools, panchayats, etc. PEB is also interested in offices, seminar halls, and Other functional requirements including call centers, supermarkets, showrooms, etc. For earthquake-resistant buildings, PEB has been widely and immediately accepted.
 Applications of Pre Engineered steel buildings include:-
Houses & Living Shelters.

Factories.

Warehouses.

Sports Halls (Indoor and Outdoor).

Aircraft Hangers.

Supermarkets.

Workshops.

Office Buildings.

Labour Camps.

Petrol Pumps/Service Buildings.

Schools.

Community centers.

Railway Stations

Equipment housing/shelters.
There is a great possibility of improving the aesthetic quality with a choice of roofing elements, exterior finishes, weather sheds, color systems, and variations in planning as well as massing.