There have been almost annual disasters in 2020. Other people would have died, the healthcare system would have collapsed, and many people would have lost their jobs. Healthcare facilities are getting ready for the next wave of the pandemic as the rest of the world goes into crisis prevention mode. Several delayed or stalled construction projects have recently resumed. As a result of preparations for another possible emergency, we anticipate a rise in hospital building projects in 2021. Innovative approaches are needed to solve the problems of today. It will therefore be necessary to develop a novel approach to building.
Prefabricated modular healthcare Buildings
Prefabrication and modular building are the solutions to this problem. There is an increase in demand for them in the construction industry. During prefabrication, individual building parts are manufactured off-site and then delivered to the construction site, where they are assembled and installed. The new method is 50% faster than the old one. Modular components are a high-quality, modern alternative to traditional civil construction.
In light of health care's recent popularity, some may wonder why modular construction techniques should be used. If you haven't decided yet whether a modular prefab building is right for your company, this article will give you an idea of the many benefits it can offer.
The first step is to assess a prospective prefab seller and weigh the benefits of prefabricated construction before moving forward.
Make sure you don't miss any of your scheduled appointments
Both modular and conventional construction starts with a detailed design plan, but modular construction is significantly faster. One of the biggest draws of prefab buildings is how rapidly they can be erected. At the same time that the groundwork for the site is being laid, building materials are being fabricated away from it. Thus, there are no further holdups due to bad weather. You should always strive to meet your deadlines. When compared to the conventional building approach, which takes 12 months to complete, prefabrication cuts the time needed to build a project in half, to just 90 to 120 days.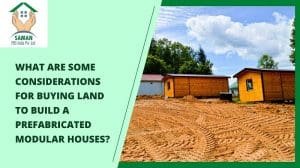 Continually reliable construction
As a result of its streamlined procedures and off-site fabrication, prefab building is exceptionally reliable. The healthcare industry can rest assured that their project will be completed on time and within budget. Before shipping, the building parts are produced in a climate-controlled environment and checked for quality.
Your prefabricated design may be easily copied for similar healthcare facilities in the future. As a result, projects can be completed more quickly. Having a consistent look and feel across all of a brand's products makes it easier for consumers to identify it.
Minimizing building costs through best practices
Modular buildings offer cost-saving benefits. All the more reason to embrace modular architecture in light of the financial strain caused by the pandemic. Prefab construction simplifies the process of sticking to a budget and preventing unexpected costs. In addition, both the building and the setting up are automated, so there is little room for error. The whole price tag is lower since less effort and time is required.
As a result of the epidemic, shorter timelines are required for healthcare construction. SAMAN factory has been operating for over 10 years, and it can handle a wide range of projects. Our portfolio includes institutional, tertiary, and vocational initiatives. Due to our own factory and large staff, we can reach customers wherever they are in the country with our service and delivery network.