SAMAN Building Solutions is one of India's leading manufacturers and suppliers of pre-engineered steel buildings (PEB). Tata BlueScope Building Solutions provides a single point of contact for the design, manufacture, shipment, and erection of Pre Engineered Buildings (PEB). Tata BlueScope Building Solutions strives to provide the SAARC region with world-class Pre Engineered Building (PEB) solutions. We have already completed over 1,000 projects for our customers in various locations throughout India. Among our clients are several well-known Indian and international organisations. We were one of the first Pre Engineered Building (PEB) companies in India to integrate engineering, planning, manufacturing, and erection systems. Introducing the most recent "STATE OF THE ART" Technology for the construction of high-quality, cost-effective, and elegant structures designed by qualified engineers. The pre-fabricated steel structures are ideal for industrial sheds for factories, cold storage, godowns, workshops, greenhouses, school/college buildings, theatres, function halls, parking shelters, and so on.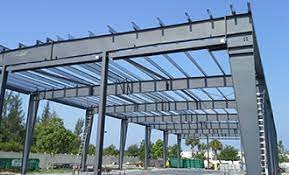 We are pleased to introduce our company, SAMAN POS India. Ours is an ISO 9001-2008 CERTIFIED CONSTRUCTION COMPANY with over 10 years of experience, and we are one of the leading Fabricators, Manufacturers and PEB Building Contractors in Bangalore. We are specialized in Fabrication & Erections of Structural Engineering by quality products and services in the field of Civil Construction and structural engineering, particularly in the field of steel construction.
Quality Control
Quality Control We build buildings by providing cost-effective solutions in the shortest time possible, with the philosophy of being flexible in response to client needs. Arvind Construction is dedicated to achieving Total Quality Management (TQM) through optimal use.
Management of Resources
The Planning Division is in charge of allocating, distributing, and moving people and equipment to meet the needs of various projects across the country. As a focal point, it assists the Project Team in optimizing productivity by balancing the availability and demand for resources (staff, plant, and machinery)
ADVANCED PEB STRUCTURES BY SAMAN POS INDIA
If there is a worthy alternative to brick-and-mortar construction, it is pre-engineered buildings (PEB). Industrial, commercial, and residential applications are all possible. PEB's applications include warehouses, factory sheds, large open sheds such as poultry sheds and dairy farm sheds, indoor tennis courts, and office buildings. These products under our banner make use of the best raw materials for projects. These are manufactured in accordance with industry norms and regulations, and they meet quality standards. These are well-designed structural framework structures that take into account the seismic zone, wind load, dead load, and other factors. EPACK is a full-service provider of PEB structure solutions, handling everything from design to fabrication, production, and installation.
Why SAMAN POS India Pvt Ltd?
Why Clients Choose SAMAN POS India for Steel Pre-Engineered Buildings? SAMAN POS India Steel has long been India's first choice for Pre-Engineered Building (PEB) solutions.
Design and engineering of the highest caliber
A strong engineering team with building design and value engineering expertise ensures the most efficient and customized Pre-Engineered building solutions.
Manufacturing and execution of the highest caliber
Advanced Manufacturing Facilities ensure that high-quality building solutions are produced flawlessly. Project Management and ERP Systems ensure that materials are delivered to the site on time, in a continuous and sequential manner.
On-Time Delivery Guaranteed
The Project Management department adheres to mutually agreed-upon expedited design, manufacturing, and erection timelines. Design and detailing software saves time during the engineering phase. Our Pre Engineered Buildings solutions include built-in features.
There is no construction pollution. Pebs use very little energy!
Another factor supporting the success of PEB structures is energy efficiency. Because pre-engineered metal buildings are manufactured in factories, there is no construction pollution on the job site, which is unheard of in brick and mortar construction. These steel buildings are used by businesses ranging from e-commerce warehouses to airports. They are high-quality structures designed to last a long time. Although the construction is lightweight, it requires little maintenance, which saves money in the long run. Our products are known for their weather resistance and ease of installation.