About SAMAN POS India Private Limited Constructions
SAMAN POS India Pvt Ltd Construction, as a werehouse manufacturer and building contactor, is committed to providing the highest quality projects at a fair and competitive cost, utilizing the finest material, skilled trade's people and efficient team management and sales staff.
SAMAN POS India Construction is one of the top Warehouse Construction Companies & PEB Builders in Bangalore dedicated to giving all our customers a project that realizes their expectations while providing them a pleasurable building experience that reinforces the high integrity standard SAMAN Construction has chosen to maintain for all its customers and suppliers.
SAMAN POS India Pvt Ltd India's leading Warehouse Manufacturers in India. We have expertise in designing and manufacturing warehouse, Sheds to our valued clients. We fabricate these Warehouse using advance technology ensuring qualitative product at customer's end. Our skilled engineers are capable of providing the specified product to valued customer in strict compliance with their demands.
To our customers we provide
We always give the best service after the installation of products.
We always value the feedback of our clients.
We provide the best quality material in this business.
No one can be quicker in installation after order.
Always ready to discuss the changes as per the requirements.
Durable, reliable, and secured structure
Always ready to listen to clients if they problems with the service.
Warehouse Manufacturer
| | |
| --- | --- |
| Minimum Order Quantity | 24 Square feet |
| Door Height | 6 - 8 ft |
| Surface Finish | Color coated |
| Feature | Easily Assembled |
| Build Type | Modular |
| Matarial | Almunium & Upvc |
SAMAN POS
Bangalore India
Call: 08046809920
95% response rate
Our company is reckoned for designing & manufacturing premium quality industrial warehouse. We build these warehouse using best quality raw material that we procure from reliable vendor-base ensuring longer functional life. Our professionals use high-grade tools and equipment for fabrication and using innovative approaches they fabricate these warehouse for our valued patrons. Our technicians enabled us to provide to the desired product exactly as per the customer's given specification within stipulated time.
With industrial advancements and surging production levels, the demand for prefabricated warehouses has shown a significant rise in the recent years. SAMAN assures maximum performance and efficiency from its prefab warehouse and strives to meet the specific requirements of its clients..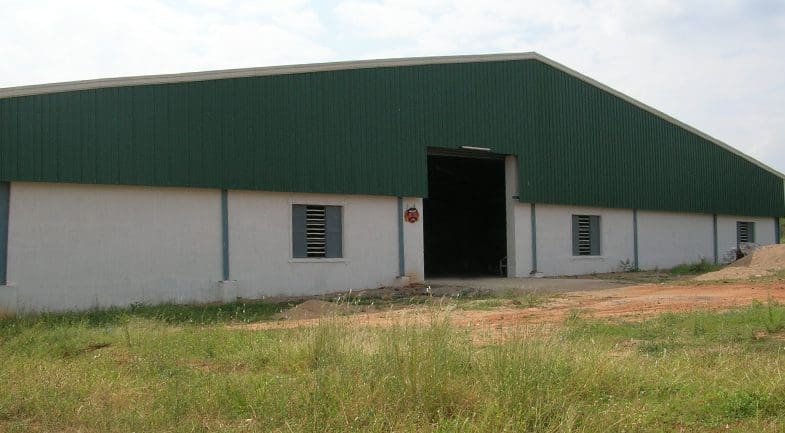 We offer end-to-end Solution with the best price
---
At SAMAN POS, we in collaboration with contractors, building owners, and architects, provide a wide range of services such as Pre-Engineered Building System, Roofing System, Mezzanine Building, and more. Our services include designing, engineering, manufacturing and delivery of complete building to clients' site, direct from our manufacturing unit.
We give the best services to our valued clients
---
As a reputed PEB supplier, we manufacturers a wide range of products using best quality raw materials in a way that meet approved industrial strategies. We source raw materials from reliable and professional vendors with an intention to deliver PEB system as per the industry specific needs and requirements.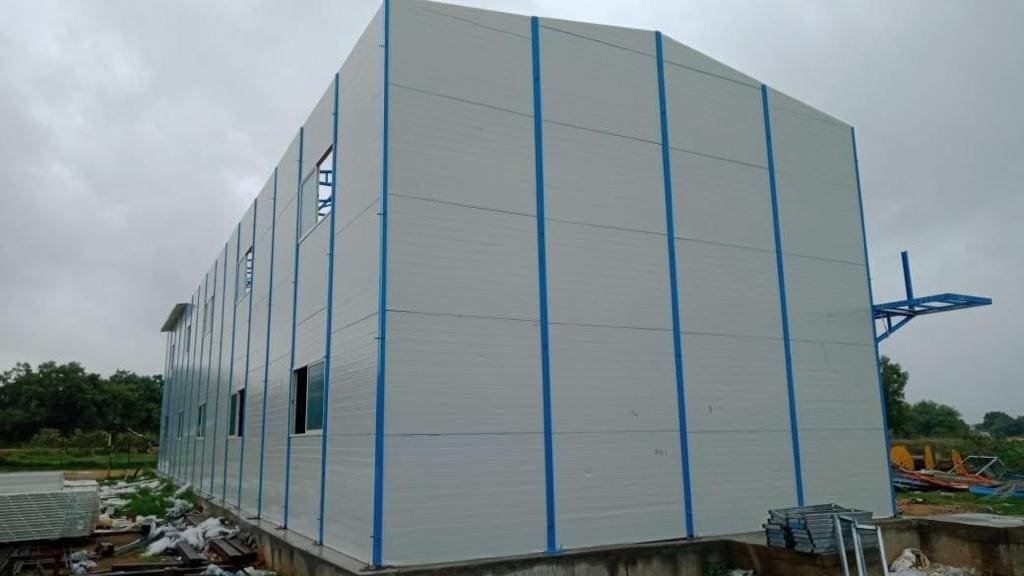 Intended for commercial storage, the prefabricated warehouse from SAMAN delivers excellent applications while catering to specific client requirements. Constructed from lightweight and strong materials, these warehouses are the perfect choice for market-leading industries and commercial organizations. SAMAN, the best warehouse manufacturer in India offers these prefabricated structures at the most competitive cost and guarantees highest performance and storage convenience from the same.
The construction industry is anticipated to witness faster growth and tougher competition in coming few years. To stay ahead and keep pace with challenging time, it's essential to look for an option that helps meet the building requirements faster and thus decreases the time taken in construction.
Warehouse manufacturer and supplier in Bangalore
SAMAN's services and solutions give you unique pre-engineered building ideas that allow easy and faster installation. At SAMAN POS, the frame of PEB is manufactured using high potential galvanized steel members which keep the frame flexible. We also make the frame an appropriate solution to create flexible designs that can be added to any architectural feature of the building. Moreover, the PEB manufactured by us has lightweight and gives more open space to work inside the building. The lightweight structure makes it easy to move and save the cost of construction as well.
Setting a benchmark in the field of Pre Engineering Building producers, we have expertise in designing and constructing specialized Pre Engineered Building. The design and detailing work on PEBs is carried out by our experienced and skilled engineering team, which utilizes fully optimized techniques without compromising on quality. RBS delivers individual services and solutions to every client
Unleashing Creativity: Planning the Interior of Your Container Home"
Detailed Content: Once you've procured the shipping container, the truly thrilling part of the project begins - crafting the interior layout. This stage involves much more than merely selecting a paint color or choosing furniture. It requires meticulous planning to optimize the use of space and ensure your container house feels like a home.
You get to decide where to position the windows and doors. Careful placement can maximize natural light, create seamless indoor-outdoor living experiences, and enhance the overall aesthetic appeal. Remember, windows aren't just openings; they can frame beautiful outside views, turning them into unique, ever-changing pieces of wall art.
Thinking about additional rooms or features? Now's the time to incorporate them into your blueprint. Whether it's a home office, a cozy reading nook, or an extra guest bedroom, you can tailor your container home to match your lifestyle and meet your unique needs.
The planning stage is also when you decide on your container home's vital systems - the plumbing and electrical installations. Where should the outlets be? Where will the bathroom and kitchen be located, considering the plumbing requirements? These questions need answering to ensure your home functions smoothly.
Insulation is another key factor to address during the planning phase. The right insulation is crucial for maintaining a comfortable temperature inside your container home and enhancing its energy efficiency. There are various types of insulation available, such as spray foam, blanket insulation, or panel insulation, each with its pros and cons. The best choice often depends on your local climate and budget.
This planning phase might seem daunting, but it's also immensely exciting. It's when your container home starts to take shape, reflecting your personality and preferences. By carefully considering each aspect, you can turn a standard shipping container into a home that is truly your own. Remember, with f, your container home's potential is boundless.
Introduction Hello there, savvy investor and curious homeowner! If you haven't already ventured into the innovative realm of Customized Porta Cabin, you're missing out on an architectural revolution. This isn't just another construction fad; it's a seismic shift in...
Our specialization in engineering calculations with structural analysis
Pre Engineering Building producers.
Preparation of working and submission of detailed Drawings.
Preparation of working and submission of detailed Drawings.
Visit Site for inspection, Identify challenges after analysis and prepare drawing and design accordingly.
Acoustic and soundproof calculation and costing.
Forget time consuming hand calclucations and spreadsheets.4>
Key benefits
We always are ready to support our customer
Drawing & Designing as per site requirement.
Provide working manual and training to workers for smooth and speedy operation with safety.
Facility Management.
Service of all kind of requirement.
Upgradation of System setup.
Client recognise SAMAN POS best-in-class prefab warehouse manufacturer
Lightweight construction and durable structure makes these warehouses a dominant force for commercial and industrial organizations. With a load of benefits, following are the features of prefab warehouses manufactured by SAMAN POS.
Prefabrication offer a fast and low-cost warehouse construction
SAMAN, the top prefabricated warehouse supplier in India offers the best warehouse solutions for industrial and commercial applications