For a long time now, even the big brands have started transforming their brick-and-mortar café or food setups to container cafés. Since then, many people have started getting added to the bandwagon to create their customized container cafés. We very well understand that people do expect to get their hands on quality products when it comes to prefabricated structures. Hence, being the best container restaurant manufacturers in India, we are all set to help you achieve your goals of setting up your café at a much reasonable price and lesser time.
At SAMAN POS, we specialize in providing a wide variety of custom container cafes, which includes a huge number of container cafes that boast a variety. Our team of experts will help you assess your needs and build the best modular layout for your café while adhering to your local food facility policy because we deliver orders to our customers' particular preferences. We are constantly on the go to help you get your hands on the most durable and affordable container café in India. The products provided by us are made up of high-quality raw materials and are also suited as per the requirements of your demands. We are constantly working very hard to ensure that our customers are pleased to make the best use of these products.
To our customers we provide
Always provide the best after installation service of the bunkhouse

Always value the opinion of our clients

Provide the highest-quality material 

Quick installation services

Ready to discuss the changes as per the needs

Durable, reliable, and secured bunkhouses

Listen to clients' problems with the service 
Cost-Effective and Wise Choice for
Your New Hospitality Business Setup
Modular container cafe structures are a cost-effective option for your restaurant concept in India. In comparison to renting or purchasing an entire building, you can receive a completely customized container that does not entail costly renovation to meet your needs. The modular architecture is also less costly as compared to traditional construction methods. Since the frame of the machine arrives intact, there are fewer working hours and manufacturing costs. Furthermore, modular construction will be done quicker; make sure to help you focus on boosting revenue and developing your brand rather than on getting your storage container cafe up and running. With a modular unit, you won't have to give up any of the conveniences of traditional architecture. You can certainly finish the interiors with plasterboard, high-end fixtures, and your preferred flooring.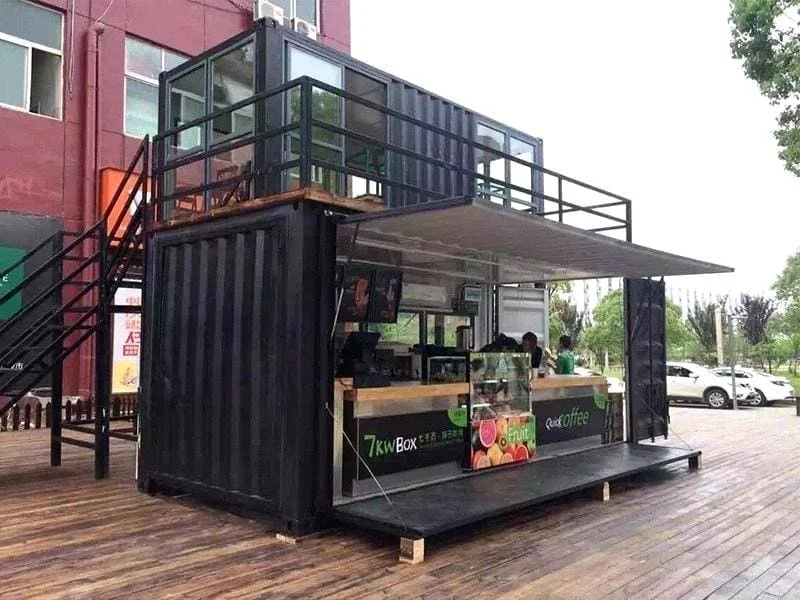 Bunkhouse
| | |
| --- | --- |
| Minimum Order Quantity | 24 Square feet |
| Door Height | 6 - 8 ft |
| Surface Finish | Color coated |
| Feature | Easily Assembled |
| Build Type | Modular |
| Matarial | Almunium & Upvc |
SAMAN POS
Bangalore India
Call: 08046809920
95% response rate
Whenever you are beginning with opening a café, let us make few things clear to you. The way your café will be viewed, and the type of crowd it will attract is heavily influenced by its décor and interior design. However, SAMAN's modular building method allows you to create various spacious and cozy spaces both inside and out; many customers like the artsy vibe of retrofitted container cafés. To give your customers a unique experience, choose a modular café. There is so much that can happen in this sector, and amidst all of it, we promise to provide our customers with the best comfort.
Reasonable Cost of Container Cafes, Coffee Shops and So On!
---
The price of a portable container cafe or coffee shop is determined by various considerations, including the number of containers used to build your mobile frame. Your venue, as well as the amount of effort involved in customizing your structure to meet your specific needs, would affect the cost of your modular café. The cost of your container coffee shop can also be determined by the nature of the containers which are used for creating the prefabricated structure. If the new container is used to make your container café in India, this will be much more expensive than those made up of reused ones.
Energy-Efficient and Reduces Overhead Costs
---
Utility payments account for a considerable majority of the operating expenses in a bustling restaurant. Every month, all the productivity gains translate into significant savings. High-efficiency equipment, solar panels, ventilation, and other renewable environmental technology can easily be used in containers for cafes. Furthermore, using a prefabricated unit is an experiment in new green construction technology as it reused the building materials. Selecting a modular space to accommodate the cafe preserves perfectly suitable resources out of landfills and encourages customers to reuse materials in new and imaginative ways.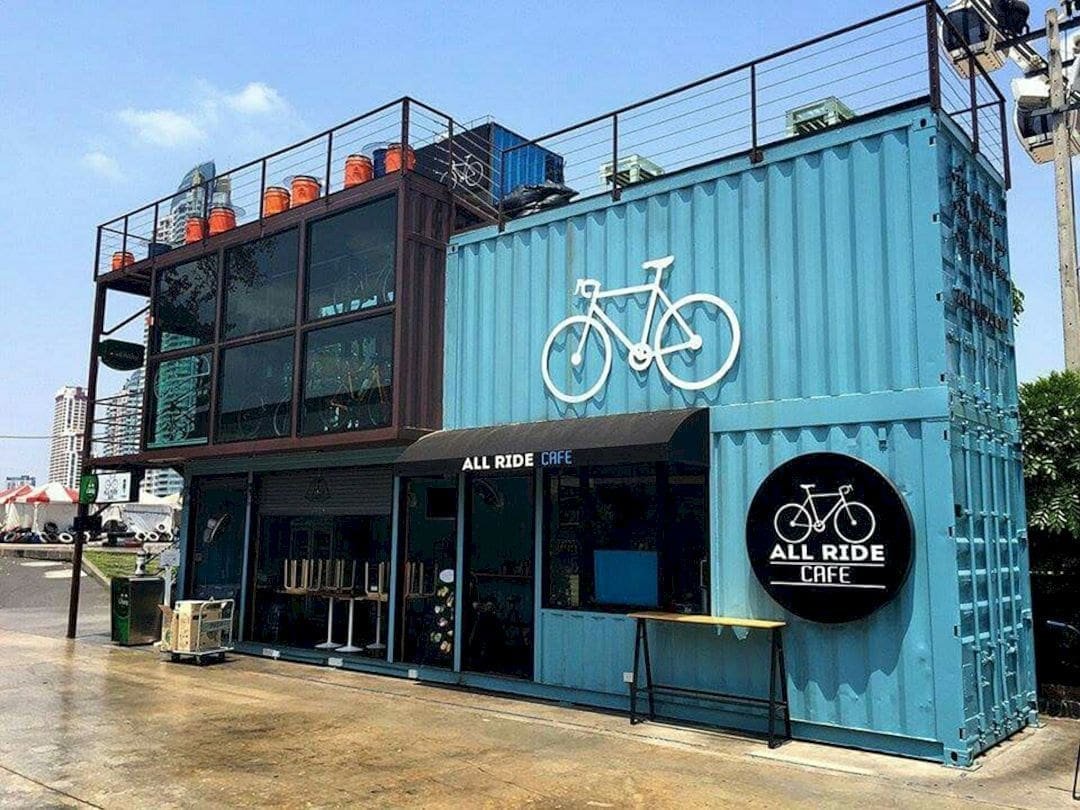 Types of Container Cafés

Which We Provide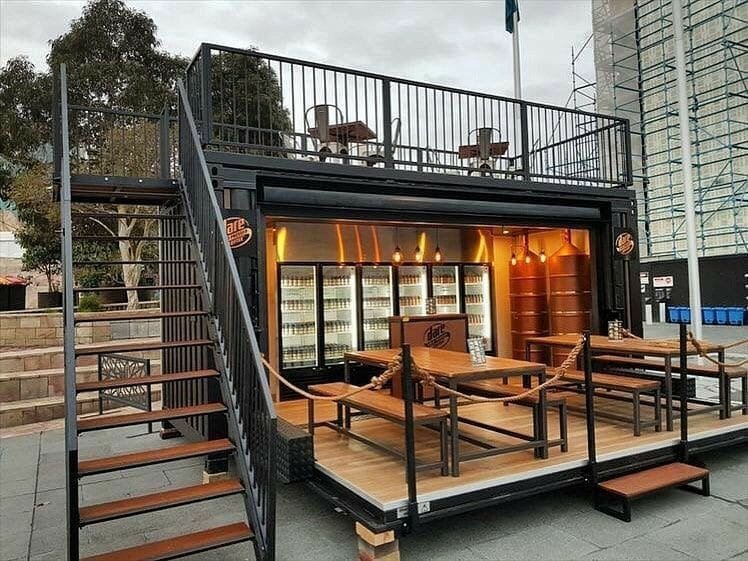 Our regular container cafes are constructed of high-quality materials in accordance with industry requirements and guidelines. They're made of high-quality aluminum and uPVC, with reinforced windows and doors, so they're long-lasting and weather-resistant. Being the best container restaurant manufacturers in India, we promise to add all the required amenities for a soothing and relaxed time.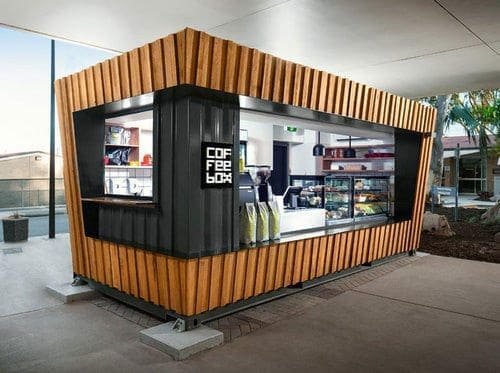 Our lightweight and portable container cafes are built and engineered using high-quality raw materials and cutting-edge technologies in accordance with international specifications and rigorously tested on a variety of criteria. The portable cafes are widely used by people who are new to the business and wish to start with less investment, or it is a great deal for people who wish to add on space to their hotel area.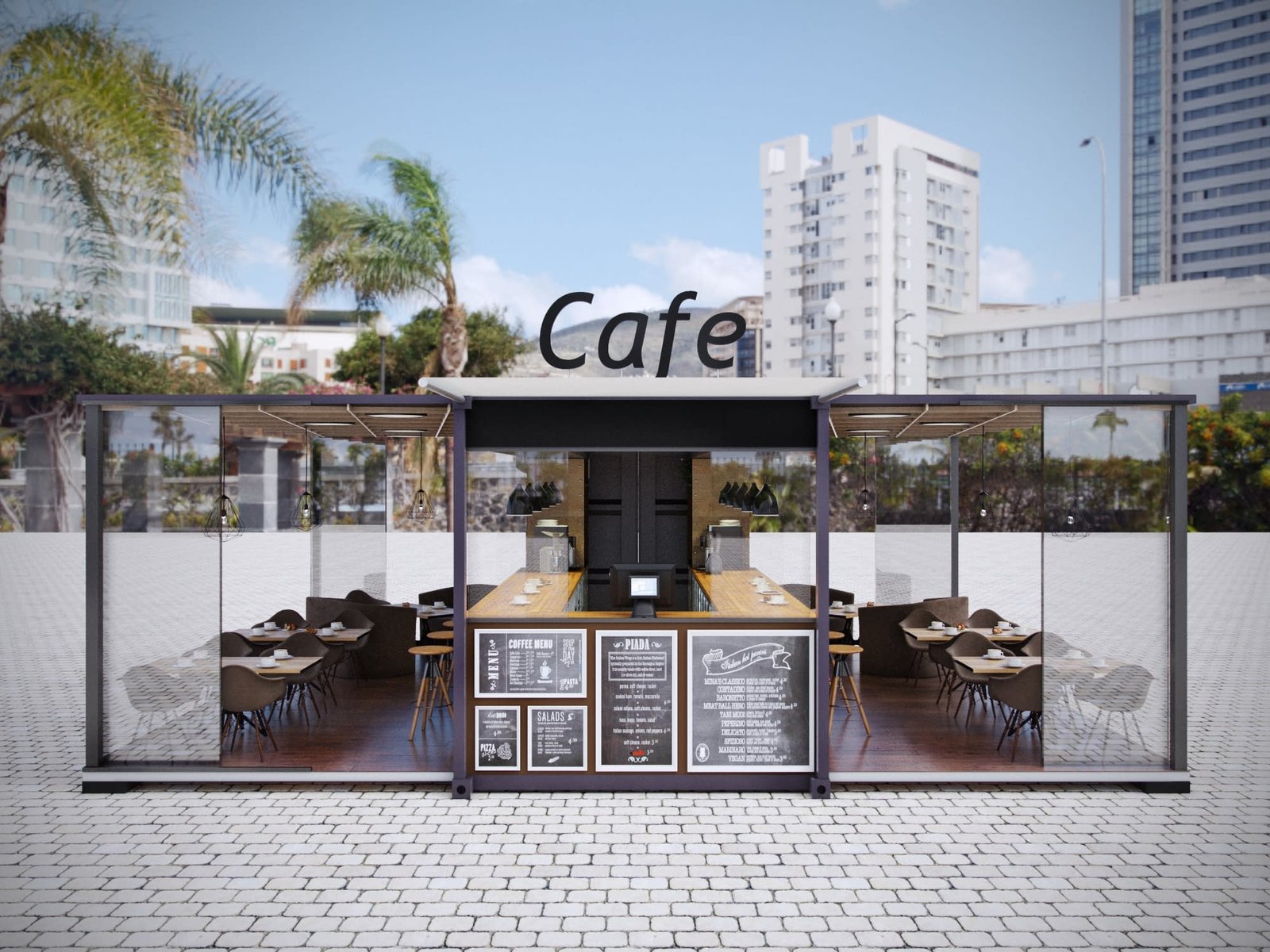 Prefabricated Container Café
Our prefabricated modular container cafes are designed to industry specifications and are known for their high strength and high durability. They have a unique configuration, are simple to assemble and disassemble, need little maintenance, and are ideal for all weather conditions. Simply provide SAMAN POS with the necessary details, and our engineers will determine what best meets your needs and offer you the best possible price.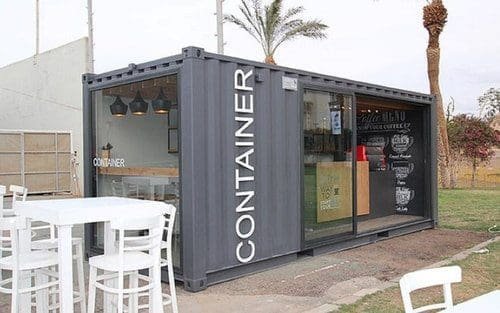 Customized Container Café
SAMAN POS container cafes are unique in that they have many features that set them apart from others. Our cafes are made of the highest quality aluminum available, making them the best in the industry. All you need is the best builder who could build and make a personalized portable structure for you to start your business.
Global franchise owners aren't the only ones that can come up with pop-up restaurant concepts. Many individual restaurant owners have understood the usefulness and versatility of shipping containers and have been using them to connect to an existing building or create a new one.
We aim to make the best design and construction of your modular restaurant as simple as possible at SAMAN POS. We'll help you with every step of the way, from determining the appropriate raw materials to ensuring that you have all of the requisite permits. We want to create a network of happy buyers who are proud of their creative product decisions and become champions for modular architecture.
Dining is a pleasure that everyone envisions. The custom container cafe from SAMAN POS Pvt. Ltd. Structures blends food with imagination to leave a lasting impact on the clients. People are incorporating these robust and durable containers into their daily lives, particularly through their culinary desires. Get going right away. You can certainly, without a doubt, contact us at 08046809920, and we will help you in accomplishing your dreams of owning a café. Hurry up and contact us today!
We not only give you comfort but also give some memories when you give your workers such a beautiful and comfortable place to live, it will show them how concerned you are about them, they will be more happy and loyal towards and will show more dedication towards work. In other words, our bunkhouses' and bunk beds' advanced features will add maximum comfort to the workers' lives.
Our bunkhouses are adjustable in size, and you just need to tell us your requirements and some basic information like; for how many workers are going to reside in the house, what is the size of the plot where the house needed to be installed, whether it is single floured or double floured. SIze modification is the most advantageous feature of our bunkhouses, and you can adjust it according to your need. All we want to say is that you are just a phone call away, and SAMAN is ready with your easy to install bunkhouse.
Do you want to have enough space and easily transportable buildings for your business or personal needs? If yes, then you have to know the benefits of portable storage buildings....