Why Choosing the Right Prefabricated Building Manufacturer Matters
Selecting the right prefabricated building manufacturer is not merely a procedural step; it's a critical decision that has long-lasting implications on your project's success. A competent Prefabricated Building Manufacturer ensures that the materials used meet high standards of quality and sustainability, thereby guaranteeing the durability and long lifespan of your prefab building. Moreover, the right partner will offer invaluable expert advice during the planning and construction phases, which can significantly streamline the entire process. From adhering to regulatory guidelines to delivering on time, a reputable manufacturer takes on a role that transcends beyond mere construction; they become an integral part of your project's triumph.
In contrast, choosing an inexperienced or subpar Prefabricated Building Manufacture could result in costly mistakes and delays, affecting your bottom line and schedule. Poorly manufactured prefab components can lead to structural vulnerabilities, necessitating frequent maintenance and repairs down the line. Additionally, lack of expertise in customization can mean that your specific needs and preferences might not be adequately met, affecting the building's functionality and aesthetics. Therefore, the significance of choosing the right Prefabricated Building Manufacturer cannot be overstated. Doing so not only ensures a high-quality, durable building but also translates into a smoother, more efficient construction process, ultimately bringing your vision to life exactly as you'd imagined it.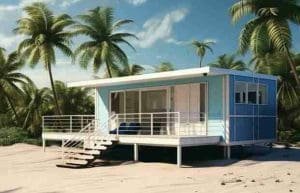 Understanding Prefabricated Building Manufacture and Various Prefab Building Models
Prefab construction is an expansive domain and there are Prefabricated Building Manufactures offering multiple building models tailored to varied needs. These are primarily categorized into three types: Modular, Panel, and Pre-Cut. Modular constructions are factory-produced units—often resembling a complete room—that are assembled on-site, essentially like large building blocks. This model offers the advantage of rapid construction and high-quality control, given that most of the construction is done in a controlled factory environment. Panelized models, on the other hand, consist of pre-fabricated wall sections which are then erected and finished on-site. This method offers more design flexibility but requires a bit more time for on-site assembly.
Pre-Cut models take it a step further in terms of on-site work. Here, the materials are factory-cut according to specified dimensions but are shipped to the construction site for assembly. While this method can be labor-intensive, it offers maximum customization options, making it popular for unique architectural projects. Understanding the core features, pros, and cons of each of these models is vital for anyone venturing into prefab construction. This knowledge enables you to align your specific needs, whether it's speed, customization, or budget, with the most suitable prefabricated building model, ensuring a smoother and more efficient construction process.
How to Select Best Prefabricated Building Manufacturer
Research online which is the best Prefabricated Building Manufacture as It is certainly not worth considering the future of architecture without thinking or contemplating the growth of the construction industry as a whole. Except for a few, the construction industry has been suffering a lot from unexpected failures, which can impact the time and money of the clients and become a threat to nature. High labor requirements, wastage of material, and high maintenance standards are some of the few challenges the construction industry faces due to its conventional building practices. Due to all of this, many people have now made a complete shift towards prefabricated building construction.
The concept of a prefab building is not new to people, as there have been a few years since its inception. This growing trend of constructing a property has many enticing factors to consider, including the ease of getting an almost-completed home brought to your place rather than designing it all from scratch. Unlike earlier, nowadays, these prefabricated houses are not just a solution for low-priced areas. It is because this trend has steadily evolved over the past few years, as some of the leading firms in the emerging proptech and building technology spaces have concentrated on modular and prefab construction. Modular architecture is also used in several high-end commercial real estate ventures.
SAMAN is a Trusted Prefabricated Building Manufacturer in Bangalore
When it comes to choose a Prefabricated Building Manufacturer in Bangalore and beyond, SAMAN Portable Office Solutions is a name that stands head and shoulders above the competition. With a well-established manufacturing base in Bengaluru, the company has developed an unparalleled expertise in delivering premium quality prefabricated structures ranging from portable office cabins to container houses. The operation runs under stringent quality control measures, ensuring each unit meets high industry standards. Utilizing state-of-the-art technology, highly skilled workforce, and cutting-edge design software, SAMAN delivers not just structures, but also a promise of durability, efficiency, and customization.
The cornerstone of SAMAN's business ethos is an unwavering commitment to customer satisfaction. Understanding that every project has unique needs, the company offers an extensive array of customization options, marrying function and form in a seamless blend. Clients can choose from a plethora of floor plans, wall finishes, insulation types, and much more. What sets SAMAN apart is its hands-on approach to customer service, offering guidance and expert advice from planning to completion of the project. The result is a robust portfolio of satisfied clients spanning multiple sectors, including healthcare, education, and commercial enterprise. Opting for SAMAN is a choice for reliability, quality, and unparalleled expertise in the field of prefabricated construction.
Customization Options in Prefabricated Buildings
In the realm of prefabricated buildings, customization has undergone a revolution, debunking the myth that prefab means cookie-cutter designs. Today, a Prefabricated Building Manufacturer offers an expansive range of customizable options that can meet even the most intricate architectural requirements. From floor plans and wall finishes to roofing materials and insulation types, nearly every component can be tailored to meet your unique needs. Modern software also enables you to visualize these customizations in real-time, offering a holistic understanding of what the final structure will look like. The implications are profound: prefab buildings can now be as distinctive and innovative as any site-built structure, making them an increasingly popular choice for discerning clients.
Notably, customization in prefab construction is not limited to aesthetic considerations alone; it extends to functional aspects as well. Whether you're seeking advanced energy-efficient solutions, particular soundproofing requirements, or specialized structural elements for extreme weather conditions, there's a customization option to meet that need. A Prefabricated Building Manufacturer today has embraced technological advancements, enabling them to offer precise modifications in structural integrity, energy efficiency, and even smart home features. Thus, choosing prefabricated buildings no longer means compromising on your vision; it signifies a harmonious marriage of convenience, efficiency, and personalization, revolutionizing the way we think about construction.
What is a Prefabricated Building?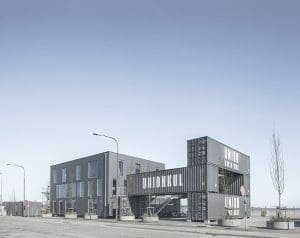 The prefabricated buildings are the factory-built frameworks that are shipped to the building site in large sections. Given the scale of the property, the structures can be designed in one, two, or three pieces. These are shipped by truck and then will be assembled at the construction site. The prefab house is mostly designed using computer-aided technology to precise standards and assembled using extra material to survive through its trip to the final location. It typically produces stronger, higher quality houses that can be constructed as a stick-built in a fraction of time. Since houses are constructed in a managed system with comprehensive planning, there are certain delays and often shorter timelines.
Latest Trends in Prefabricated Building Manufacturing Industry
Many experts are being questioned for a long time regarding the main trends of prefabricated construction. There are very obvious why's and how's popping up about where this trend of prefabricated buildings is heading. Below are some of the latest trends which will help you decide whether prefab is ideal for you or no.
Contemporary is the New Style
The prefab homes can be built in any style, as the Prefabricated Building Manufacturer has an ample number of designs in their stylebooks. However, one of the most popular trends of styling their home chosen by the people is contemporary as per the experts. The first few prefab homes were also contemporary in style, but it might be possible that most people do not know that there is a wide range of other designs available to choose from.
Rural Homeowners Choose Prefab Buildings
The masters or experts feel that homeowners residing in remote areas would be more willing to invest in prefabricated housing. Rural properties also have difficulty reaching the lumber yards and locating quality contractors, so opting for a prefabricated home can be less costly and more stable quality for those in rural areas, as opposed to other places around the nation.
Property Owners Believe the Lower Cost Myth
Most experts believe that property owners often choose to invest in a prefabricated home due to its lower costs. But, some of the prefab houses are of higher prices also, and hence, we can say that the concept of lower cost is a myth now. These homes have a shorter timeline, and hence many construction-related costs can be avoided due to delays. However, the overall expenditure of a prefab home is the same as that of a stick-built home.
Millennials Inclined to Prefabricated Homes
Talking about which group of generation is more inclined towards the prefabricated homes, nothing would be more appropriate than the millennials. Perhaps there are various explanations for that, though, from the possibility that prefab homes are computer-based to the idea that millennial homeowners might be more familiar with the concept than homeowners who have only lived in the cemented homes. With this type of construction continuing to grow, it makes perfect sense that younger homeowners will be driving factors.
Size and Plans Vary for Prefab Houses
Prefab houses may be designed in several sizes, architectural designs, and floor plans, from tiny, small homes to massive mansions. However, some experts believed that, given the alternative, most people would prefer to be using this construction method for two-bedroom homes, while another set of people use it for three-bedroom homes.
Prefabricated Building Manufacturer: The Ultimate Guide for 2023
The Evolution of the Prefabrication Industry
The prefabrication industry has undergone seismic shifts over the past decade, driven by technological innovation and a growing awareness of sustainable construction practices. Initially perceived as a lower-quality alternative to traditional building techniques, prefabrication has effectively shattered that stereotype. Through advancements in materials science, computational design, and automation, the sector has elevated its status to offer compelling advantages over conventional construction methods. These include but are not limited to reduced construction time, decreased waste, and an unswerving commitment to quality.
Why Prefabrication is the Future of Construction
Gone are the days when prefabricated buildings were synonymous with temporary, low-quality structures. The emerging paradigm celebrates prefabrication as an effective solution for creating robust, long-lasting, and aesthetically pleasing buildings. By focusing on factory-controlled conditions, the methodology significantly mitigates the risks associated with climate, thereby ensuring precise measurements and meticulous workmanship. Coupled with stringent quality checks, this approach guarantees a product that meets and often exceeds the standards set by traditional construction.
The Importance of Choosing the Right Manufacturer
Selecting an appropriate prefabricated building manufacturer is not merely a transaction; it's a long-term investment in your future. The right Prefabricated Building Manufacturer not only adheres to rigorous quality control protocols but also brings innovative solutions tailored to your specific needs. Whether it's energy-efficient insulation, smart home integrations, or custom architectural features, the possibilities are truly endless. SAMAN Portable Office Solutions, for example, epitomizes this approach by offering a diverse range of prefab solutions, ensuring quality, customization, and sustainability.
Quality Assurance and Your Investment
It's a fallacy to view prefabricated buildings as a 'cheap' option. While cost-efficiency remains a selling point, the real value lies in the quality of the product. Prefabricated Building Manufacturer who invest in research and development, use state-of-the-art materials, and apply rigorous quality checks elevate the concept of prefab from a mere budget option to a viable long-term investment. As a result, you gain not just a building, but an asset designed to appreciate over time. Therefore, it's vital to thoroughly assess a Prefabricated Building Manufacturer's credentials, quality assurance processes, and customer testimonials to secure your investment's future.
 Final Thoughts
Whatever the purposes for choosing a Prefabricated Building Manufacturer to develop with prefab technologies are, it is a truth that this industry is growing. Make sure that you pay attention to trends over time to make a better and smarter decision about projects that you might like to implement, like your own prefabricated home. Remember that you follow these trends and many others in 2021 to make the best possible choices about your prefab house.
If you are looking for Prefabricated Building Manufacturer, then you are on the right place, contact us at below URL.