Here's What Really Matters in Porta Cabin
What really matters in a porta cabin depends on the specific use case, but generally speaking, some important factors to consider include the size and layout of the cabin, the materials used in its construction, its insulation and climate control features, the availability of utilities such as electricity and plumbing, and any additional features or customization options that may be required for the intended use. It's also important to ensure that the porta cabin complies with any relevant building codes and safety regulations.
Porta cabin are a versatile and efficient solution for businesses. Whether you're looking to set up a temporary sales office or establish a permanent base. A porta cabin is convenient option. With their fast and easy assembly, porta cabins allow businesses to get up. It helps to minimize downtime and maximize sales opportunities. Additionally, their compact size and customizable features make them ideal for use in a variety of settings. With a porta cabin, businesses can rapidly expand their sales operations and take advantage of new opportunities as they arise. Whether you're a small startup or a large corporation, a porta cabin can help you achieve better and faster sales results.
A Few Quick Tips to Help You Find the Best Porta Cabin Company
Make sure the company you choose has a proven track record. It delivers good quality of Porta cabin to their Client on time running in no time. Look for a company that has been in business for several years. As well as, it has has a solid reputation for quality and reliability. It is important to look for a company that offers a comprehensive warranty. A good warranty will  not protect your investment only but also provide peace of mind. Before making a decision, take the time to read customer reviews and testimonials. This will give you a good idea of the level of customer service and satisfaction you can expect from the company. Finally, be sure to get a quote from the company to determine the overall cost. Since porta cabin is cost-effective, it fits within your budget.
By following these tips, you can help ensure that you find the best porta cabin company for your needs. With the right company, you can enjoy a convenient, cost-effective, and flexible solution for your business.
A Fool-Proof Formula for Easy Porta Cabin
Building a porta cabin can be a complex and time-consuming process, but with the right formula, it doesn't have to be. Here's a fool-proof formula for an easy porta cabin construction:
Choose a reputable company: Look for a company that has a proven track record of delivering high-quality porta cabins. Look for a company that has a solid reputation for quality and reliability.
Select the right design: Choose a design that meets your specific needs and requirements. Look for a company that offers a wide range of customization options and can help you select the right design for your needs.
Get a clear estimate: Before construction begins, make sure you have a clear estimate of the cost, timeline, and materials that will be required. This will help you budget accordingly and avoid any unexpected costs or delays.
Use high-quality materials: Choose a company that uses high-quality materials to ensure the durability and longevity of your porta cabin. Look for materials that are weather-resistant and designed to last for many years.
Seek professional help: If you're not experienced in porta cabin construction, seek professional help. A professional can help ensure that the construction process is completed correctly and efficiently, and that your porta cabin meets all necessary building codes and standards.
By following this fool-proof formula, you can make the porta cabin construction process easier and more efficient. With a high-quality porta cabin, you can enjoy a convenient, cost-effective, and flexible solution for your business.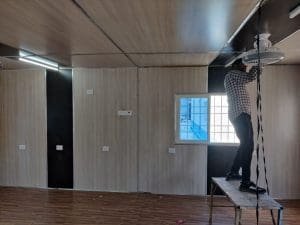 The Lazy Civil And Infrastructure Sectors 's Way to Porta Cabin Manufacturer
The civil and infrastructure sectors are always in need of porta cabin. They often rely on brick-and-mortar buildings for their projects. It is not cost effective. But mow. they prefer porta cabin to tradition as it rises in the industry due to cost-effective and efficient solution, even the most laid-back and traditional civil and infrastructure professionals are beginning to take notice.
Do your research
While it might be tempting to go with the first porta cabin manufacturer you come across, it's important to do your research and find a reliable provider who can meet your specific needs. Look for a manufacturer with experience in your industry, and who can provide references and testimonials from previous clients.
Consider your needs:
Think about the specific needs of your project. Choose a manufacturer who can design and build a porta cabin that meets t your needs. Whether you need a temporary office, a classroom, or a medical clinic, there are porta cabin manufacturers like us who can provide a customized solution.
Compare prices:
Cost should not be the only factor in your decision. It is also important to consider quality.  You should get a fair deal. Be sure to ask for a detailed quote that includes all of the costs associated with the project, including delivery and installation.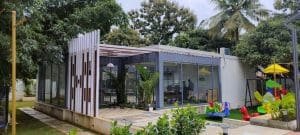 Make Porta Cabin Work for You
Porta cabins are a versatile and cost-effective solution for a wide range of construction needs. Here are some tips for making porta cabins work for you:
Customize your design: Porta cabins can be customized to meet your specific needs. Consider your space requirements. Prefer any special features or finishes you may need, such as heating and cooling systems, plumbing, and electrical wiring.
Plan for the future: SAMAN designed for both temporary and permanent use. Consider your future needs and plan accordingly, whether that means designing a structure that could fit your pocket. Choosing a portable design that you can easily relocated.
Choose the right location: When choosing a location for your porta cabin, consider factors such as access, drainage, and ground conditions. Make sure that the site is level. There is sufficient space for delivery and installation.
Find a reliable supplier like us: Choosing a reliable and experienced supplier is essential for ensuring that your porta cabin project is a success. Look for a supplier who can provide a range of options and who has a track record of delivering high-quality, cost-effective solutions.
Plan for maintenance: Like any other type of building, porta cabins require regular maintenance to ensure their longevity and functionality. Make sure that you have a plan in place for cleaning, repairs, and maintenance, and that you follow the manufacturer's recommended maintenance schedule.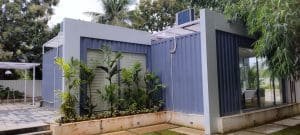 By following these tips, you can ensure that your porta cabin project is a success, and that you get the most out of your investment. Whether you're looking for a temporary office, a classroom, or a medical clinic, porta cabins can provide a flexible and affordable solution for your construction needs.
If you are looking for best supplier of porta cabin, contact us