Are you in need of an office space for your next project? If so, a porta cabin may be the perfect solution for you. In this article, we'll take a quick look at the many advantages of using a porta cabin as an office space and why it might be just what you need to make your project run smoother.
Porta cabins are a type of temporary building that can be used for a variety of purposes, including as an office. They are typically made from lightweight materials, such as steel or aluminum, and can be easily transported and set up. This makes them an ideal choice for projects that require mobility and flexibility.
Porta cabins offer many advantages over other types of office spaces. For one, they are extremely cost-effective, since they don't require any permanent construction work. Additionally, porta cabins can be outfitted with the necessary furniture and equipment to create a comfortable and functional working environment. Furthermore, since porta cabins are portable and can be quickly dismantled, they can easily be moved from one site to another if needed.
Finally, since porta cabins are emissions free, they provide a green solution that is beneficial to the environment while providing your team with the space it needs to get the job done right. With all these benefits in mind, it's easy to see why a porta cabin could be just what you need for your next project.
Cost-efficient Porta Cabin Workspace Solutions
A porta cabin is a prefabricated, temporary structure that can be used as an office, on construction sites, or for other purposes. They are often made of steel and aluminum, and can be easily transported from one location to another. Porta cabins typically have walls made of either panels or sheets, and a roof made of either a tarp or metal.
Porta cabins can be an ideal office solution for your next project for a number of reasons. First, they are very easy to set up and take down, so you can move them as needed. Second, they are much more affordable than traditional offices, so they can save you money on your project budget. Third, they provide a great deal of flexibility in terms of layout and design – you can customize them to fit your specific needs. Finally, porta cabins are very durable and weather-resistant, so they can withstand even the most extreme conditions.
Benefits of Using a Porta Cabin for Office Space
A porta cabin can offer a number of benefits when used as office space, especially on construction sites or other temporary locations. They are typically less expensive than traditional office space, and can be set up and taken down much more quickly. Additionally, porta cabins are often more comfortable in hot or cold weather conditions, as they can be insulated and temperature-controlled.
They can also provide more privacy and security than other work environments. Porta cabins are designed to be water-tight and secure, making them ideal for sites with fewer people around. They can also be equipped with modern technology and amenities, including electric lighting, furniture, HVAC systems, internet access, telephones and more.
Finally, they can offer more flexibility in terms of location and design than traditional office space. Porta cabins can be easily moved from one site to another if needed, and their modular design allows for easy customization in terms of size and layout. This makes them a great option for businesses that need an office space that is adaptable to different settings.
Advantages of Choosing a Porta Cabin as an Office
There are many advantages of choosing a porta cabin as an office, including the following:
Porta cabins can be quickly and easily installed on site, meaning that your office can be up and running in no time at all.
They are highly versatile and can be adapted to suit a variety of different needs and requirements.
Porta cabins are extremely strong and durable, meaning that they will withstand all weather conditions and will last for many years to come.
They provide a cost-effective solution for those who need an office on a budget.
They offer a great degree of privacy and security, making them ideal for sensitive or confidential projects. 6. As they are portable and self-contained, they can be moved to different areas when necessary.
They provide an excellent level of insulation, making them energy efficient and comfortable to work in all year round.
Porta cabins are available in a range of sizes and styles, so you can find the perfect office for your business needs.
Tips for Making the Most Out of a Porta Cabin Office Space
If you're considering a porta cabin office for your next project, there are a few things you can do to make the most out of the space. Here are some tips:
Use furniture that can be multi-purpose. For example, consider using a fold-out table as your desk. This way, you can use it for working, dining, or entertaining.

Get creative with storage. Since porta cabins are often limited on space, it's important to be creative with how you store things. Consider using shelves and baskets to maximize space.

Bring in personal touches. To make your porta cabin feel like home, bring in some personal touches like photos, plants, and artwork.

Make use of natural light. Portable cabins often have great natural lighting, so make sure to take advantage of it. Open up the blinds and curtains during the day to let in as much light as possible.
Different Types and Sizes of Porta Cabins
Porta cabins come in all shapes and sizes, so finding the perfect one for your needs shouldn't be a problem. Here is a quick guide to the different types and sizes of porta cabins available:
Standard porta cabins are typically around 6m x 2.5m in size and can accommodate up to 10 people.
Large porta cabins are usually around 9m x 3m in size and can accommodate up to 20 people.
Extra large porta cabins are typically 12m x 3.5m in size and can accommodate up to 30 people.
Executive porta cabins are typically 6m x 3.5m in size and can accommodate up to 15 people.
Custom porta cabins can be made to any size and specification according to your needs.
Portable toilets are available for hire, ranging from basic standard models to luxury executive models.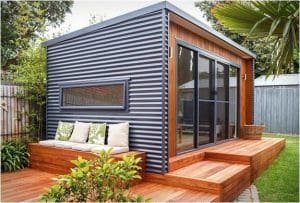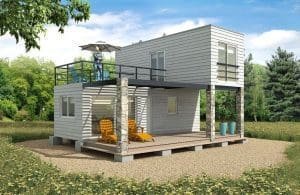 Creative and Innovative Uses for a Porta Cabin Office Space
When it comes to finding an affordable and practical office solution for your next project, a porta cabin could be the perfect option. Not only are they easily transportable and available in a variety of sizes, but they can also be adapted to suit your specific needs. Here are just a few creative and innovative uses for a porta cabin office space:
A portable office for on-site workers: If you have employees who need to work on-site at different locations, a porta cabin office can be the perfect solution. They can simply be transported from one location to another as needed, and set up quickly and easily.

A temporary office space: Whether you're renovating your existing office or moving to a new premises, a porta cabin can provide you with the temporary office space you need during this transition period.

An affordable option: Porta cabins are typically much more affordable than traditional brick-and-mortar offices, making them ideal for start-ups or businesses on a tight budget.

A flexible workspace: Due to their modular nature, porta cabins can be easily reconfigured to suit your changing needs. For example, you could add partition walls to create separate meeting rooms or private offices within the cabin.

A unique office space: If you want your business to stand out from the competition, why not opt for a porta cabin office? They offer a unique and alternative
Conclusion
A porta cabin is not just a cost-efficient option; it's a smart investment for your upcoming projects. Why spend unnecessary time and money on permanent structures when you can swiftly set up a fully-functional workspace with our Porta Cabins? Crafted with superior insulation features, they are your year-round companions—no matter what the weather. Convinced that a porta cabin is your next best step? Explore our range and get in touch with us today.
Our Porta Cabins are more than just flexible; they are fully customizable to meet your unique demands. From dimensions and color schemes to the interior layout, every aspect can be tailored to fit your precise needs. On top of this, our Porta Cabins are an eco-conscious choice. Their adaptability means they can be reused across various projects, requiring fewer resources for construction. Lower costs and a reduced carbon footprint—what's not to like?
In summary, if you're in the market for an office solution that is not only affordable but also adaptable, efficient, and environmentally responsible, your search ends here. Browse our Porta Cabins to discover why they are increasingly becoming the go-to choice for businesses across sectors.
With its blend of affordability, customizability, and eco-friendliness, our Porta Cabin offerings are unquestionably the smart choice for your next project. Don't wait; seize this opportunity now.