Building Your Space Anywhere
From Container Offices to Prefabricated Warehouses, we provide innovative and cost-effective fabrications. Explore our wide range of Portable Cabins, Prefab Labor Colonies, Security Cabins, and more. Serving Bengaluru, Karnataka, and other major states in India
Why SAMAN Portable Office Solutions?
Transform Your Space with SAMAN
Welcome to SAMAN Portable Office Solutions, the future of innovative, portable, and eco-friendly living spaces. We're committed to creating a harmonious blend of versatility, durability, and comfort in our range of portable cabins, container offices, and other prefabricated structures.
Our flagship offerings include portable cabins, container offices, container homes, prefab offices, prefab houses, and more. Each product is designed with you in mind, ensuring unmatched quality, durability, and design efficiency.
Porta Cabins
Our portable cabins are a testament to our dedication to quality and innovation. These movable structures, also known as Porta Cabins, offer a unique mix of versatility, comfort, and cost-effectiveness. Whether it's an office space, living quarters, or a temporary shelter, our Porta Cabins fit the bill perfectly. They're sturdy, well-insulated, and can be transported with ease to your desired location.
Container Offices
In the evolving landscape of workspace design, our container offices stand out for their modern aesthetics and functional design. These plug-and-play offices, crafted from high-quality shipping containers, are not only sturdy but also offer a unique industrial charm. They are fitted with all the necessary amenities and can be customized to your business needs. With our container offices, you can literally take your business anywhere.
Container Hotels
Container hotels are a revolutionary trend in hospitality, using repurposed shipping containers to create unique, eco-friendly accommodations. Combining innovation with sustainability, they offer compact yet comfortable spaces, often equipped with modern amenities. Perfect for urban explorers and budget-conscious travelers, container hotels provide a novel experience, aligning with environmental consciousness.
Container Houses
The dream of owning a home is universal, and at SAMAN, we are transforming this dream into a feasible reality with our container homes and houses. Made from durable shipping containers, these homes are designed with a focus on comfort, space utilization, and sustainability. These compact, move-in ready homes are customizable, offering a unique blend of practicality.
Prefab Offices
Our prefab offices and houses revolutionize the concept of quick and efficient construction. These structures are manufactured in parts at our facilities and then assembled at your site, saving you time and reducing construction waste. Our prefab solutions are ideal for businesses looking to expand quickly or families seeking an affordable housing option.
 Container Cafés
Hospitality gets a mobile makeover with our container cafes and hotels. These innovative structures allow entrepreneurs to set up their establishments in virtually any location. They are trendy, compact, and equipped with all necessary amenities, making them an ideal choice for startups in the hospitality sector. If you are intrested in our Container Cafés, please check our latest products.
Prefabricated Warehouse
Prefabricated warehouses are factory-built structures designed for quick assembly. They offer customizable sizes and layouts, catering to diverse storage needs. Cost-effective & time-efficient, these warehouses are
suitable for a variety of industries. Their robust design ensures durability and promotes efficient space utilization, making an optimal choice for logistics, storage.
Peb Buildings
Pre-Engineered Buildings (PEBs) are custom-designed steel structures manufactured off-site and assembled on location. PEBs offer a flexible, durable, and cost-effective solution for various needs, from warehouses to sports complexes. With their ability
to withstand harsh conditions, adaptability to future expansions, and faster construction times, PEBs provide a efficient alternative.
Portable Toilets
Portable toilets are mobile restrooms designed for convenience and accessibility in locations lacking plumbing facilities. Lightweight and hygienic, these units are essential for outdoor events and construction sites. Equipped with waste storage tanks, they ensure sanitation and privacy. Some models offer added features such as sinks, mirrors, and lighting, enhancing user comfort.
Our products break geographic boundaries. Need to move your office to a different location? No problem. With our portable solutions, you can set up your office or home at your desired location without the usual hassles of relocation.
Customer Service – We're with You Every Step of the Way
At SAMAN, we don't just sell products; we build relationships. Our dedicated team is with you at every step, from initial inquiry to post-sales service. Your satisfaction is our success.
Making a Mark in the Industry
With a portfolio of diverse clients and successful projects, we've made a mark in the portable solutions industry. Our clients span various sectors, including construction, education, health, and hospitality. Our products are making a difference in people's lives, helping businesses flourish, and promoting sustainable living.
An Invitation to Explore and Experience
As we move towards an increasingly mobile and eco-conscious world, SAMAN Portable Office Solutions is poised at the forefront of this shift. We invite you to explore our wide range of products and services. Whether you are a business looking for an office solution, a family in search of an affordable home, or a community requiring prefabricated buildings, our solutions cater to your needs.
Step into the future with SAMAN. Let's redefine the way we work, live, and experience space.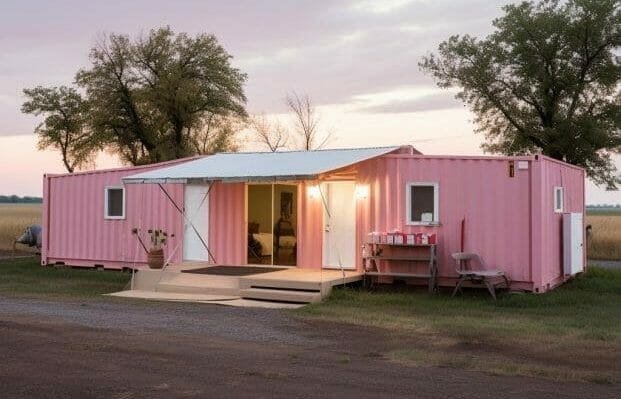 Are you seeking a flexible, economical solution for your workspace or living needs? Dive into the world of porta cabins! These pre-fabricated structures extend several benefits, including adaptability and quick assembly. With the ability to withstand various climatic conditions and being easily transportable, porta cabins are the perfect fit for businesses in need of rapid expansion or temporary installations.
When investing in a porta cabin, remember the crucial factors of Quality, Customization, and Cost-effectiveness. A durable, well-built cabin provides long-term service, and the capacity for personalization ensures client satisfaction. Furthermore, aligning the project cost with the client's budget, while still offering value, is essential for success.
Facing challenges with your porta cabin, container office, or portable cabin can be a hassle, but there's a way to address these issues for good. Here's what you can do.
Uncover the Root Cause
Begin by identifying the cause of your predicament. This may require a detailed inspection or professional help to diagnose the problem.
Get in Touch with the Manufacturer
If structural problems are the issue, such as leaks or physical damage, it's wise to contact the manufacturer. They might provide repair services or replacement options.
Stay on Top of Maintenance
Consistent maintenance is vital to maintain the condition of your structure. Routine tasks include cleaning, applying a fresh coat of paint, and regular damage checks.
Think about Upgrades or Modifications
If you're facing functional issues, like inadequate insulation or lack of power supply, it could be time for some upgrades or modifications. These changes can significantly boost the performance of your structure.
Adhere to Codes and Regulations
Ensuring your structure complies with local building codes and regulations will guarantee its safety and keep it updated with current standards.
By following these guidelines, you can overcome any challenges with your porta cabin, container office, or portable cabin, ensuring their longevity and efficiency.
A key aspect setting us apart is our commitment to sustainable practices. Our portable and prefab products are a step towards environmentally-friendly construction. By repurposing shipping containers and reducing on-site construction waste, we're doing our part to minimize environmental impact.
Quality and Durability – Our Promise
Our products are designed to last. Whether it's our robust container offices or cozy container homes, we ensure every unit is built to withstand various weather conditions. Premium materials, top-grade insulation, and rigorous quality checks are standard procedures at SAMAN.
Customization – Because Your Needs are Unique
No two clients have the same needs. Therefore, we offer comprehensive customization options. From the layout of your container home to the interior design of your portable cabin, our team collaboratively works with you to create your vision.
Introduction Hello there, savvy investor and curious homeowner! If you haven't already ventured into the innovative realm of Customized Porta Cabin, you're missing out on an architectural revolution. This isn't just another construction fad; it's a seismic shift in...
"Porta Cabins from SAMAN transformed our workspace! Affordable, quick to install, and adaptable to our needs, they provided the perfect solution for our growing team.
Saman's Porta Cabins are a revelation! Elegant and practical, they were the perfect choice for our temporary housing needs. Quick setup and eco-friendly – we couldn't be happier.